"There are a lot of benefits that you can get from a wellness program," said Brenda Mattson, Rockler's HR director. "Certainly you can improve the camaraderie and the teamwork. But you also can reduce your absenteeism, your short-term disability claims rate, your medical claims, and your lost time accidents and injury rates. These are real dollars that do contribute to your bottom line, so it's absolutely worth it. Plus, it's a lot of fun."
In the years since its launch, Rockler has regularly refined its wellness program. Employees can receive biometric screenings, flu shots and health assessments. And Rockler uses many of Hennepin County's Health@Work programming ideas. In spring 2015, for example, Rockler participated in Hennepin's four-week Step To It Challenge, a fitness competition between local communities. During the challenge, Rockler offered employees discounted pedometers and gave them plastic fish each time they walked the one-mile track encircling company headquarters. At the end of the month, employees had doubled the number of steps they'd taken during the previous year's competition, and Rockler threw a poker party, letting employees trade their fish for playing cards.
During late 2014, Rockler also took part in Hennepin's Frosty Challenge, an eight-week winter weight maintenance campaign. The 60 participants lost a total of 118 pounds.
These efforts have not gone unnoticed. In 2015, Rockler was awarded Hennepin County's Wellness by Design Award for its health promotion efforts. Sonja Savre, who heads the award program, explains that Rockler serves as an example for companies who are on the fence about starting a health promotion program. Rockler is helping prove that it doesn't take much money or effort to run one and that the pay-off can be significant.
In July 2015, LaPoint tackled her newest fitness challenge: Willmar's The Slide & Glide 5K, an untimed run/walk with inflatable slides and obstacle courses. It was a family affair. Skyler and LaPoint's 67-year-old mother tagged along, too, and the trio laughed as they slid and bounced through the course.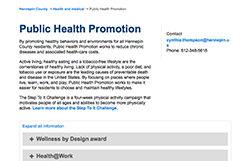 Hennepin County Public Health Health@Work offers a broad range of low- and no-cost workplace wellness programs and services for employers in Hennepin County. For more information visit Health@Work.